Tobacco Humidor
Pipe smokers, this is for you!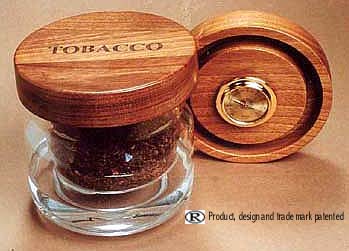 Price: USD 185.00 / Prix: EUR 185.00 / Prix: CHF 185.00
Between the pipe smoker and his tobacco, the relationship is intimate and affectionate. If filling-up his pipe borders on the ritual, savoring the unique aroma is a sought after pleasure. Unfortunately, most tobacco humidors do not allow for the smoker to keep a protective eye on his tobacco. Now, with this tobacco humidor, the smoker is able to continuously monitor his tobacco, making optimum enjoyment and satisfaction possible.
It is the only tobacco humidor to feature a hygrometer (an instrument that continuously measures and monitors the amount of humidity) under the humidor's walnut cover, allowing for maximum control and enjoyment.
USA/ASIA Shipping US Dollars $ 45.-
EUROPE Shipping Euro € 35.-
Swiss Shipping CHF 35.-
Order by email to contact@vicotex.com